EXEN Esports
EXEN is a Jyväskylä-based e-sports organisation founded in 2020. I wanted to start building an organisation where players are genuinely listened to and valued. We at EXEN want to offer players and streamers a good and safe place to grow towards professionalism and the top of e-sports!
I build EXEN with a big heart, kindness and a straightforward approach. EXEN has teams and players in different games competing in Finland and around the world. In addition, our renowned Stream Team provides weekly entertainment for our fans. We also create various events with our partners!
Our goal is to be a well-known and respected e-sports organisation that operates in a versatile and long-term manner in various areas of e-sports - and of course with success in the competitive arena!
________________
Patrik Falck,
Founder, CEO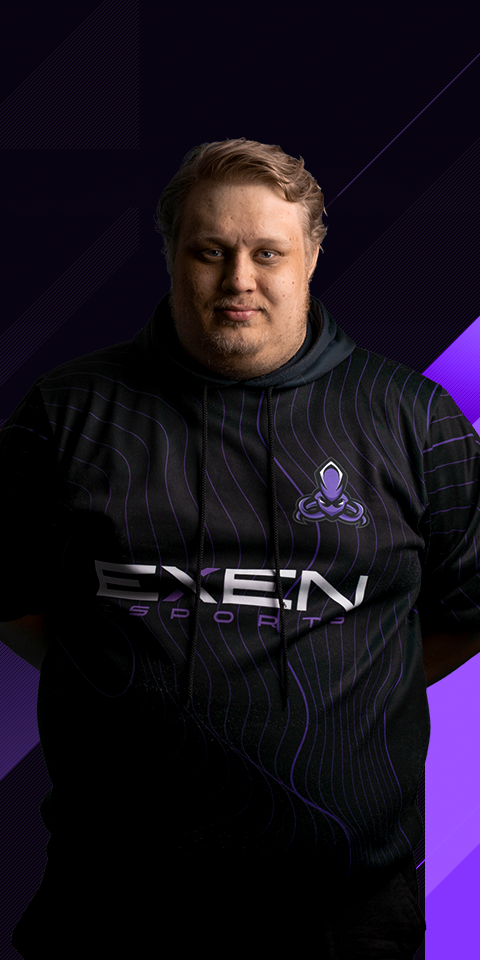 2022
CSGO
Roster 03/2022:
Jasper "japE" Svensberg
Lari "Hella" Isohella
Wilho "w1lp" Ruuhilahti
Nikolas "Soda" Norppa
Saku "Myste" Hirvonen
Jarmo "jamboni" Helttunen | Coach
NHL
Arttu "Artuzio" Mustila
Arttu has represented EXEN since May 2021. 
Achievements
Finnish Championship 2020, 2021

European Championship 2020

E-Athlete of the Year 2020
2021
CSGO
Roster:
Jere "Jezkuee" Koskinen
Youssef "jussi" Adam
Santeri "kide" Koponen
Veeti "S1rva" Sirva
Mikael "Mikzuuu" Selander
Elmeri "one" Lind
Samu "Samppa" Kylmälä
Sebastian "SEBU" Blomberg
R6S
Rainbow Six Siege
Roster:
Verneri "VML" Lempää
Jan-Peter "Piece of cake" Karlund
Joni "Rotko4" Oikari
Tuomas "JDudez" Turula
Mikko "Meeppi" Föhr
Valorant
Roster:
Rasmus "Blomster" Blomqvist
Paulus "KETTU" Paakki
Roope "Vuubit" Eilola
Linus "Limpe" Räty
Jirka "Laze" Jokela
Mikko "HALILA" Halila | Coach
2020
CSGO
Roster:
Jere "Jezkuee" Koskinen
Leevi "AKE" Kovalainen
Nikola "Sooda" Norppa
Miika "MiikA" Taskinen
Konsta "konstab" Butorin
Ville "VILKSU" Hietamäki
Fortnite
Roster:
Otto "Shipene" Silvennoinen
Otto "Klinber" Klinberg
Rocket League
Roster:
Kalle "LethalKale" Lehto
Osman "Labyrinth" Ali
Aleksi "Aleksiii" Huiko
Achievements